The $618 million magician
15-March-2019
15-March-2019 0:00
in General
by Legerdemain Magic
I've put my performance fee up to $618 million. I know that might seem a lot for a magician, even by London standards. In fact, for that money you might expect David Copperfield, Derren Brown and Dynamo, plus your own flying broomstick, invisibility cloak and unicorn. So let me explain.
As well as being a magician, from time to time, I take on temporary roles in differnt companies. It allows me to explore and develop other skills and interests, and to meet different types of people.
I took on a role at HSBC in London, as part of its financial compliance team. The bank has a great in-house video production team, and when they found out that I did magic, they asked if they could interview me. They were particularly interested in the children's magic classes I teach at Davenports in London, the oldest family-run magic shop in the world. Davenports is where I learnt magic and spent much of my childhood, and now I'm lucky to be back there, supporting the next generation of young magicians.
The HSBC video team produced a great film called A Touch of Magic (watch it below), which they posted on their YouTube channel, HSBC Now.
A few days later, the Financial Times newspaper picked up on the video and published the story below, which explains why I'm now the $618 millon magician. Cash, cheque and online payments accepted.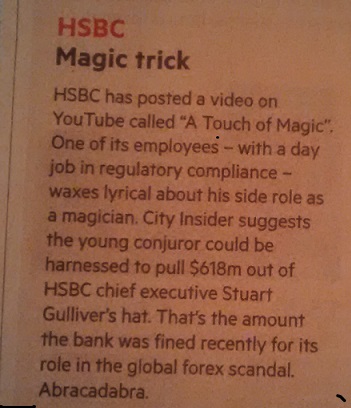 A Touch of Magic – HSBC Now
Here's the video that HSBC made about me teaching children's magic classes at Davenports magic shop, check it out.